I have so much catching up with blogs to do, it is overwhelming but it will fun to breeze through and see what every one has been up to. Left for a trip to Niagara Falls/Clifton Hills Ont last wends. Which was brilliant, I haven't seen the Falls for years and years.


Woo, I was there invading Timmies like crazy, rocking the maple dip and lamenting that a large Ice Coffee is the size of a medium at Dunkin Donuts, but Timmies reigns supreme in taste and in that special place in my heart lol. Also I ate enough poutine to fell a lesser person, god love Swiss Chalet and their special gravy. <3


I have picture spam, but actually have decided to keep it light to just four pictures which you can click on to expand. Took some great ones with my BlackBerry which I need to upload as well. These pictures were taken by my nephew Max and they are extremely lovely, couldn't say no when he asked to helm the camera!

Was awesome from start to stop, Transformers 2 RoTF was on PPV. Ch-Ching. Unintentionally lulzworthy CBC programming...(The upcoming skating with the stars esque show featuring Stephan Richer!) gorgeous weather and just being back in Canada was a dream come true. Plus the heaven on earth known as Shopper's Drug Mart.

Any ways, here are some pictures of the majestic falls. Honestly riding on the Maid of the Mist boats and being surrounded by The Falls on either sides is the most beautiful and amazing thing you can ever see or do, really. I highly suggest it.

Oh...thing that is new to me, the vending machine in the hotel didn't accept bills,but credit cards, and only let you purchase one soda at a time and when I'm trouping out there with a child army to watch Transformers lol we were there for an age XD.


A view from one of the walking cutaways near the roadway, you can see one of the Maid of the Mist boats.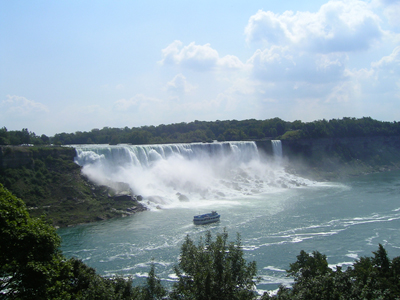 I believe this particular falls is called The Bridal Veil falls.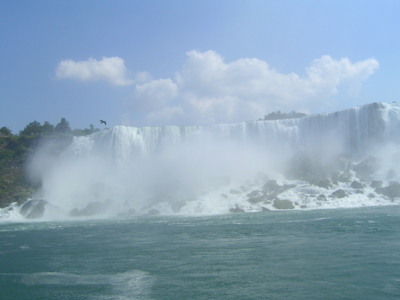 Here's a view of another Maid of the Mist boat, see the blue poncho's they are wearing to protect you from the spray? You get drenched obviously. But lol, it was so bloody hot that day, I felt like a turkey in one of those cooking bags at Thanksgiving. Which makes me even more appreciative to eat Tofurkeys lol. XD
Mind you UDPP in Sin, my makeup didn't shift in all that. heheheh.


This is Skylon Tower. We went up that. Horrors. Scared of heights and glass elevator. Not a great combination. But, managed it, didn't want to wuss out and be a baby, nine of us there after all wasn't going to be silly and be precious. You know what? It was not that bad! Was quite pretty, if it was steps I think it might have been more difficult on the scary department, but no, the views were in fact breathtaking and not at all terrifying. Besides I've been up the CN Tower so this isn't a touch on that.


Ok, you have been more than patient, here is the lone polish I picked up, it is from Gosh and is named Peachy, super cute I think.