Blargh am sick! >.< Not fun. Hope everyone had a good Talk Like a Pirate Day yesterday. Wahey. But of course for me, it is always talk like a pirate day, and I don't just mean my sailor mouth which I dutifully keep clean and ladylike in my type! lol

Ahh, must profess my love of Urban Decay's FBomb polish, been wearing it for two days and I haven't even had a bit of tip wear and from a nice creme-y red like this, is something to boast about for me. Usually I'm prone to nicking early, but so far this has been a dream.

Such a gorgeous pin up red, classic but it isn't a drastic red, it is a touch muted so it isn't so in your face and blood red. Two coats with a top of Poshe to seal. Sorry about the pictures, this set and the last haven't been all that great, I suppose because I haven't felt well I just have taken them and didn't check them as well I normally would have and they've suffered. Clean up also looks bad here too. So sorry.


Indoors.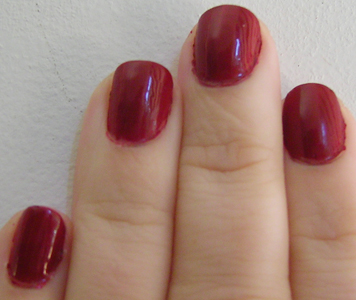 Outdoors,sunlight.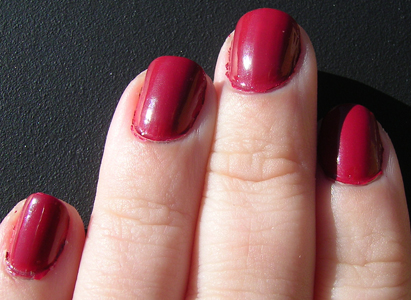 Nerdery time.

Uhhhh! You can finally Get Nintendo DSi's in Pink! OMG. Do want. Really badly. When I was in Niagara all four of the boys had their DSi's with them (and I couldn't find my DS, it went missing!) but they did all let me have a go on theirs at various times. Awww! The only bugger about that is, I want to nab myself a PS3 finally after waffling and playing D's. What to do. What to do. Both are a chunk of change so it is really a tough choice.

Also Aion! Looks great. But...does it just look foxy and have that WoWness to it? I want to try it, but I've also joined an EGLS and don't know how beholden I am to that play wise. Finally got round to A Moogle Kupo D'Etat yesterday, and hopefully will finish it tonight or tomorrow on FFXI. Still haven't bothered with ACP waiting on a friend to start that (well have started first two bits), would rather of done that for the body piece than Kupo D'Etat's head piece. But oh well.