Ugh, preface this picture with the fact that I dinged my index fingernail on the camera no less. So smudge ahoy, decided on wearing DS Fantasy for the day (first time wearing it and ahh it's gorge!) instead or I'd of fixed it for the picture. Sorry for that laziness.

This is Color Club Volt of Light, really into these violently neon shades of late. This is two coats, it does have drag marks and tends to pool on this particular shade. I think a third coat and it'd have been perfect. Think for me this would be more of a toenail shade. Doesn't suit me really.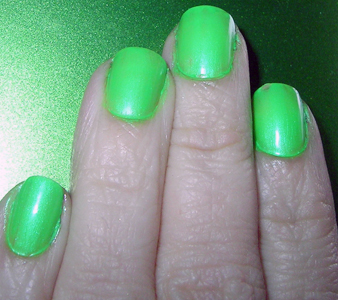 Was at the Toys R Us today and managed to back down from getting my own PS3. Will continue to have that cash separate and maybe next month cave. It is such a cash plunge when you buy new consoles, games aside even not even thinking of headsets etc.