Hmm, here's a snap of China Glaze's Black Diamond after two coats. It is really pretty, and not what I'd expected. It more heavily leans towards a dark gun metal grey then black, there are slight hints of blue. Really quite like it.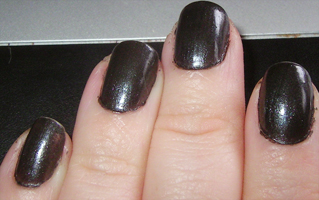 Am on a makeup jones today, really trying to resist the call of the tinted Sin Urban Decay Primer Potion sold at Sephora as I love the original formula so much, the tinted is being all siren songin' it.

Also, really and making goo goo eyes at Obsessive Compulsive Cosmetics lip balm in Tarred. Am a fan of black sheer glosses and lippy for the way they darken. I have Lipstick Queen's lippy in Black Tie Optional, but don't want to plunk $22 for the gloss as well so I generally slap Cover Girl's Wetslicks Amazemint (mmm minty!) in Happy Hour over it. (The CG gloss is very sheer with a blue tint). Hell I slap that over Nars' Orgasm gloss as well, brings up the shine nicely and again that minty feel!

The OCC balm is just $10 comparatively. I have to say I adore Lipstick Queen's packaging on the lippy, will need to snap up a picture.

Am so looking forwards to my KO Karen to arrive. /dance!