Here's a maybe Harley Quinn mani, might be pushing it but hey. Was in haste to try KO's Karen, which I'm wearing here with KO Flatte Black. Karen is such a cherry tomato, it was entirely worth the asking price in my opinion, yes I'm sure with a regular flat top coat can be duped easily, but really I'm just loving the formula and shade. The speed of dry time is great, this would be perfect for an emergency mani too! Will also be doing soon a side by side of Flatte Black again'st ManGlaze's The Death Tar for comparison.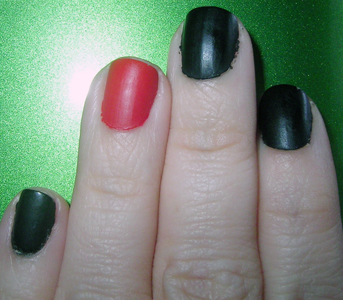 Oh hotness! You can listen to a stream here of the entire new Depeche Mode album Sounds of the Universe!

I hope there are eggs to decorate today lol, mind you the only eggs I'm fond of are creme eggs. ;)

Have a whole bunch I plan on adding so if I've spare time today will post a bunch of various polish related pictures, for sure scanning a lot of my older UD promo material. Have a happy holiday everyone!