First of all I'd like to thank you for all the input, I'll reply here instead of replying in the comments. I truly appreciate your taking the time out to comment and I'm totally going to implement a lot of it! I've got an idea brewing about a giveaway that hopefully I can have going at the beginning of the month as well now.


<3s ladies!


I'd been concerned because I'd lost a follower and you are all super dear to me, so any thing I can do to improve and keep you engaged is something important!

I reckon the FFXI post is what caused it lol. Can't promise something that horribly dirty nerdy wont happen again in future! Will try and keep that to a minimum.


Decided to retry Amour's Rainbow Hologram with the Revlon Black Lingerie tips, with Poshe top coat. I'd shown it on just one nail the other day because I'd rushed it and gotten frustrated. It was worth redoing, and I think I'd like to get more of these Amour (Unique Ruby not withstanding! hur hur!)

Indoor lightning.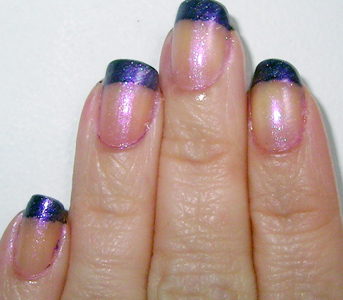 Outdoors,really shows the iridescent sparkles. Such a milky pink base too, that builds on a second coat, but this is just one coat over the black with the Poshe top. Again sorry about the clean up, corrector pen ahoy and better remover.