Took another shot of Mon Cherry, because that last one was pants, just didn't look
right
! And...it's on the green metallic backdrop which for no reason find amusing.

Here's my CVS haul, click on if you'd like to see it larger.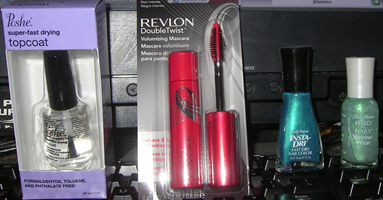 Had to pick up a scrip and thought, wow excuse to peruse for nail polish. I got Poshe top coat, was cheaper than Seche, think it was on sale. Also one of the Sally Hansen Insta Dri's in Blue Streak and Sally Hansen Hard as Nails in Lime Lights, I adore that sort of shimmery green, it isn't always the most flattering but it is so cute!

What all else, oh a replacement mascara. Had meant to do a review of Max Factor's 2K Calorie Extreme Lash Plumper saturday and that afternoon before snaps were made I fell prey to the pink eye that'd been going round the house, no amount of hand washing and Purell action worked. I thought I'd evasion +1 too. lol. So I had to toss that mascara, was going to rep it but saw this new Revlon mascara called DoubleTwist. The wand is interesting it looks like a combo of a bristle brush with the newer soft plastic style intertwined. So looking forwards to trying it once I'm sure the conjunctevitus has cleared completely. Not fun, I can tell you! First time in all my years I've ever had it. Not a fan! XD

Oh, and I promised my nephew to feature his artwork, and here is the little charmer with a picture he drew of his favorite wrestler, Jeff Hardy, replete in face paint. He's got a few more that are fantastic of Hardy as well ^^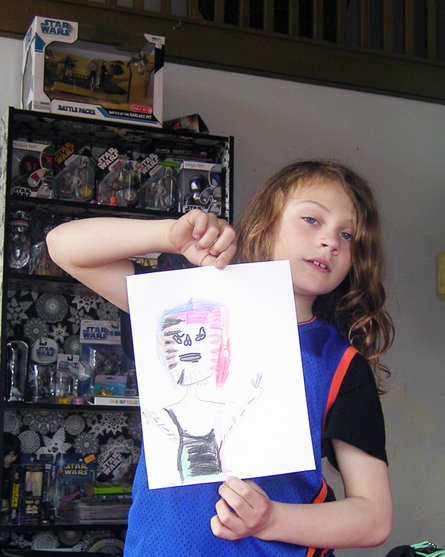 Max is standing in front of my nerd nook. *^^*;