KO Liberty is here, and is just lush! Really does look like that green over copper patina.


Sorry for the hasty semi clean up, just wanted to post how gorgeous this was. Less haste, more speed. XD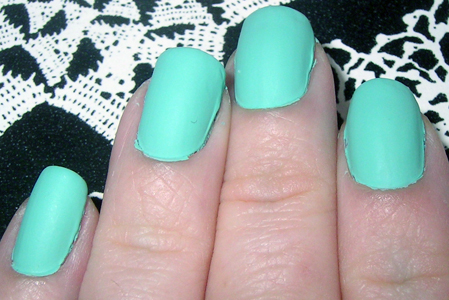 This is three coats, and is extremely quick to dry. Keep having to peek at this mani, really love the combination of color and flatness.

They have one called Ox out now, and it's my dream been hoping for an Ox blood colored polish and for a flat one at that. How can I resist. Oh what to do.

My nephews popped over last night with their DSis, they traded in their DSes apparently you get a good deal of cash on trade in for a DSi. Anyways, we were messing in Pictochat chatting and they can send and write/draw to mine in a rainbow which is so cute. Wonder if they can in individual colors as well. Looks like the DSi is worth upgrading to, but am going to wait to see if they release another wave of colors, as it is just blue and black right now...don't want to surrender my pink/Boba Fett number just yet.