Right, first off happy St. Patrick day for those who observe it.

Had an amazing joint b-day party with Bird. Super yummy vegetarian burritos at Sam Diego's. Mmm! Fun with Peanut. A great time had by all! I was given some amazing books, that I can't wait to pore over! Oh oh oh annnnnnnd!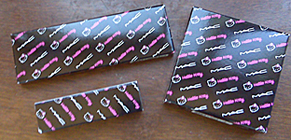 MAC Hello Kitty hotness! Powder in Tahitian Sand, lippy in Cute-Ster and an eyeshadow palette in Lucky Tom! I love the pink glitter embedded in the cases, it's so cute and the saweet Hello Kitty herself on the lippy with a psychedelic pattern dress. Thank you Birdy! <3

The new MAC Sugarsweet collection is gorgeous. Very springy shades indeed. Polish wise Pepperment Patti has me excited, and is a must have. I do have Seasonal Peach and while the color is gorgeous, the application on it and the way it worked on my skintone...blech. Quite a letdown that one was for me.

Oh my polish haul came, altogether amazingly. A deluge of polish right,left and center!

The Nfu Oh bottles do not disappoint, they truly are the most adorable bottles. With the lace up molded corset, with the bow and bustle on the back and glass, cute flower on the front with filigree designs and the...boobs heh. Truly is a sweet little design. The shades though, I can not wait to try on. Even in the bottles there is so much color play and shift. I'm already in love. Brought were 50,51 and 52. Suspect more shall be in my future.

As for the Shades by Barielle, must say the boxing was a bit excessive giant box for just three polishes inside. The colors though. Made of win! Am wearing Date Night, since it is St. Patrick's and a nod to green isn't remiss in my otherwise all black outfit today. Application was fantastic, really could have gotten away with one coat, no dragging or brush marking. Tried to take a camera pic of the polish on, but it just isn't going to cut it, need to replace my old camera still. I have a lot of greens, Date Night is really stand out however. I also got Berry Blue and thanks to the buy two, get one free I received Decadence which is gorgeous but am dubious to how it will look on my skintone. To me it looks like it might have a good deal of a yellow undertone, but of course can't really tell how that will translate until it is on. Hoping it looks good, because it is striking and bright.

Also a bottle of Creative in Turquoise Tint, which looks like it will be an amazing sheer if done with a light hand, or a nice jelly full coverage. What all is next, hmmm...Four Amour polishes: Rainbow Hologram, Rain Glitter, Brilliant Ocean Blue and Unique Ruby, which I can't wait to try with a base of black polish.

Two Opi shades Yoga-ta Get this Blue and DS Fantasy. Two Orly, Goth and Prisma Gloss Gold which looks absolutely fascinating. Lastly, New York Summer in Class Act and Essie in Mesmerize. If the sun comes out I'll try and get a group shot on the phone. Such a huge influx of polish. Boing! Boing! *call19* (FFXI nerdery!).

Oh and another birthday present...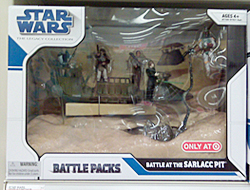 To quote MC Chris, 'Yo momma is a bitch-I'll see you in the Sarlacc Pit!' Fett's Vette. Wahey. <3 me some Boba Fett.