Hmm, taking the blame off Essie's Mesmerize, I think it does need a longer drying time but I think the problem with all the denting may lie with the new base I used as I had problems with it to a much lesser scale when applying Orly's Love Each Other. The base I'd used Sally Hansen Complete Care Four in One extra moisturizing. Think I'll stick with my oldy but goodie base.

This is three coats of Love Each Other. Didn't half like it on, was sheerer than expected and is much more dramatic in bottle. Plus it show's the state of mass staining despite the buffing. Too much dark the past two months showing over despite the base coats. Was able to reshape them to a much nicer shape. Amazing what a picture shows as opposed to what you see. So sorry for the state of them. Sheers are a no go atm! That index nail before, Woof! But I think Love Each Other would look great on a black cream as a top coat.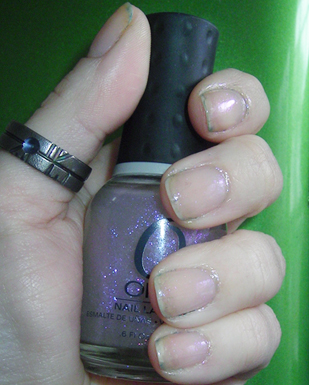 Thought I'd post a picture of BPAL's BPTP's Claw Polish . Click on the thumb below to get a full size picture.


These are great, a cute feature on some of the newer bottles is if you breath on it or it gets fogged up the Triple Dagger logo appears on the sides. The polishes are really lovely and the tints in order of picture are from left to right: Embalming Fluid which is a glow in the dark polish with fine iridescent glitter, Midnight on the Midway, Mmm. Moriarty, Blood Countess, Morgause, Lady Macbeth, Destroying Angel, Opium Poppy and Maiden.

The polishes are a lovely formula, three free and all. I reach for these often. Destroying Angel is such a lovely vampy dark brown. A picture doesn't do it justice.