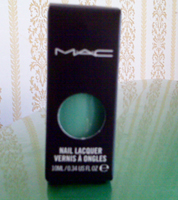 My Peppermint Patti came yesterday. It is so cute, very Maloxxy. Am looking forwards to trying it on! Sorry for the askew picture it is sat on my green lan tower and it isn't flat but I like the way it picked up the green. Bet this will be a perfect pedi shade.

Have tried the Seche Restore on a couple of my relic UD bottles. It seems to only want to do the job on glitter shades. Although Road Stripe is coming up nicely! But it is probably because of the forumla (UD), because I imagine Seche Restore will probably be brilliant with other brands however. Worked really well on a couple Candy Man's and a Hard Candy. Seche Restore rocks bells for glitter shades.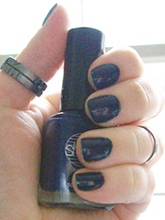 Wearing Berry Blue, by Barielle today and it's foxy. Love the heavy pigmenting! But I just noticed that Essie Mesmerize matches my dress I'm wearing right now perfectly. lol. That's the trouble with such a hot amount of incoming. So hard to choose. Gah. Real camera soon with proper pictures. Honestly.


Speaking of shockingly bad pictures, here are two. Which will be repped poste haste when...words...camera. Oh yes, where was I? Oh comparison of IS's gemmed eyelets next to Anatometal's Bling gem eyelets. These are both 7/16ths. Both are single flared, my ears are wicked bitchy and double flare is just not comfortable. The IS gemmed eyelets are only offered in Single Flare, at least @Steel Navel. Don't know if this is the case elsewhere. Anatometal Blings you can purchase SF or DF and custom wearable Steel or Titanium @BAF.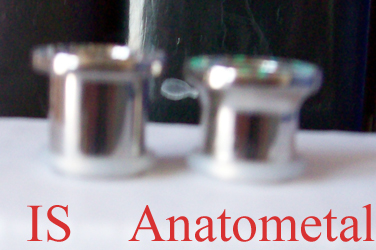 Alrighty the IS ones have about a 3/8 wearable (you can also choose a wearable of 5/16) I purchased the 3/8. It is a little bit longer as you can see as the pair of Anatometals is shorter in height and has a more pronounced saddle before the wearable.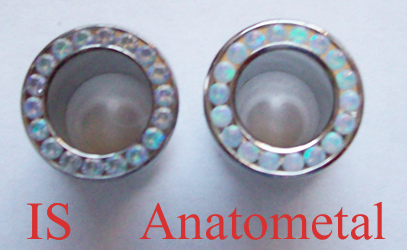 Here's the head on; the gems set in the IS pair are 2MM in Water Opal, which is more of an almost Aurora Borealis gem without the gold foil-ish tones. The gems in the Anatometals are 2MM and are Faux Opals. The IS seem to be a little wider than Anatometal's 7/16ths/11 MMs sizing and the channel setting is thicker on Anatometal's as well.

Oh and the IS pair are Titanium whereas the Anatometal Bling's are 316LVM ASTM F-138 Implant Grade Steel. I've not tried on the IS pair yet, but upon looking at them I think my loyalty shall remain with my beloved Anatometal Blings collection. Yes I was swayed by the shiny heh. Water Opal how dare you! Shame. Shame! XD heheh. Also pet peeve the O-rings that came with the IS pair were so tight, I think they were for a 00G. lol. But that's easily remedied. I've O-Rings floating around a go-go! Probably people dig a tighter O-Ring size, but I like the slightly looser so I don't constantly rot my manicure. As I did a few minutes ago unlocking my door. Woof!