I really like Nfu Oh's formula, finally got around to trying one out. It is impossible to catch all the flash of tints. Truly a rainbow of chunky glitter yet it doesn't feel clumpy on the nail when dried. The pictures show two coats of Nfu Oh 50, over a base coat of Revlon's Black Lingerie 919 which is a nice basic black cream. Sorry for the lack of clean up on my nails in the shots.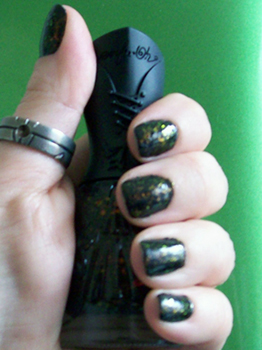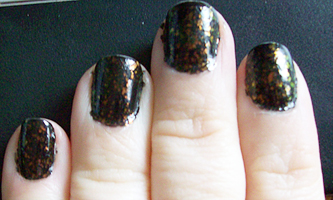 Researching all manner of digital cameras, it is hard with so much variety from which to pick, but dutifully reading reviews right,left and center as to make the best choice. Would appreciate any and all suggestions. Refuse to be swayed by pink casing to a degree. Am a sucker for pink when it comes to my gadgets, from my phone to my DS to my old lan tower and laptop. XD

A new online expansion pack is coming for Final Fantasy XI: Online, it is called A Crystalline Prophecy. Details, if you can call it as much are available at POL's site. The expansion is available for advance purchase and will go live early April. New armour, with some customizable stats apparently. It is going to be a bitch to register if it's anything like Wings of the Goddess' expansion registration process was. Server pounding wahey. The new base armour doesn't seem fantastic for my WHM, or RDM really for that matter. Suppose I should pound out some of the other jobs. Still want a Nagerling for DRK, if I properly lvl it past my Sky sub for Chainspell>Stun.

More info is available about this expansion on AllaK.